Ecological Restoration, Volume 29, Issues 1 and 2
Ecological Restoration Journal 29(1-2)
Today a new issue of the world's first restoration journal,
Ecological Restoration
, came out through the
University of Wisconsin Press.
It's an absolutely killer double issue on the intersection of ecosystem protection and restoration that asks whether or not restoration is actually able to positively feedback on ecosystem conservation, preservation and protection (depending on your semantic perspective). This was also the last issue to which Mrill Ingram and Chris Reyes contributed as the editorial staff, handling submissions and revisions and such. These two individuals provided many years of service and always churned out a top-notch publication, issue after issue. Mrill bid farewell
last issue
, but both individuals are owed a debt of gratitude and respect from the larger restoration community for their character, professionalism and contributions to the field of restoration. Thank you very much Chris and Mrill!
Additionally, the University of Washington's
Kern Ewing
,
Jon Bakker
and I were fortunate enough to put together
a note
within the journal for this issue, and I figured that I'd briefly plug it. Jon Bakker is a plant and restoration ecologist who works on grassland and forest restoration while Kern is a "recovering" engineer interested in how restoration design and planning can drive project outcomes over long and short timeframes, especially at heavily degraded sites.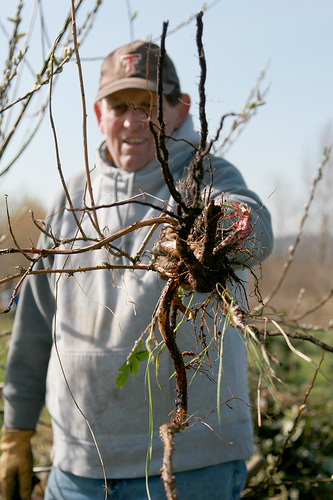 For this note we put our heads together on a site within the
Union Bay Natural Area
, a former landfill and current assemblage of novel ecotones, to ask:
What are the long-term consequences of soil amendment on native bunchgrass abundance--especially in a highly stressful site with limited soil resources?
The study site we worked on had previously been examined by Kern in a pair of 2002 papers (
citations here
and
here
and
here
) that showed just how soil resources can shape plant survival. While restoration is most easily studied immediately following treatment application (e.g. plant survival, community composition, soil properties, etc), it is long-term information that can perhaps best elucidate how ecosystems may develop and can be effectively restored. We assessed how
Festuca idahoensis
and
Festuca rubra
responded to five soil treatments 16 years after restoration.
To be brief and background aside, we found that in a highly disturbed, invaded site, initial soil treatments that reduce soil resources can increase the survival and spread of stress-tolerating native fescues. While this summary is inherently short (you can't blog away the entire story of an already short note!), I encourage you to email me (natehoughsnee(at)gmail(dot)com) to request a
pdf
or look at the
entire issue
.